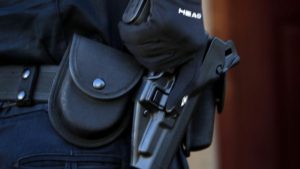 The first requirement you need to meet before you start looking into being a security guard is that you're over 18 years old.  While this is specific to the US, it may be different depending on your geographic location. The second requirement is that you have a clean record. Because companies put a lot of trust in their security they need to know that you're actually trustworthy. This means that if you've had any past arrests or charges you might not be suitable for a career as a body guard. Some companies also take their investigation a step further, especially high profile companies that have a lot to lose if their security is inadequate. They might ask you to pass a drug test and undergo a physical or mental examination. Then, the final requirement that you need before you can advance is a high school diploma. Depending on the type of company you want to work for in the future, it may be wise to taking your education even further. Some companies might prefer you to have a degree in a relevant subject, such as police science or criminal justice. While these degrees might not be necessary for most security guard jobs, if you're hoping to be employed by a high profile company then a degree will make you more desirable as well as a driver's license. If you meet all of these requirements you can start your training.
In the U.S. it is required of all security guards to complete state certified training. Each state has different requirements and different training programs, so think about where it is that you want to work and where you currently are. However, the training that you need to undergo isn't the same in every county and the process may be different. Once you have researched and completed your training you can apply for your license or in certain countries you may receive your license at the end of your training. If you need to apply for your license independently there may be a fee for submitting your application. After you have received you license you may undergo additional training. This includes training with any weapons or equipment or general emergency training. After that it's just a matter of getting your fingerprints registered and taking your license to an agency.
While the process might be relatively straight forward, the training isn't easy and neither is the job. It requires discipline, patience and discipline. Being a security guard is a big responsibility and when you are hired by a company they are putting their valuable assets and their lives in your hands. You need to maintain concentration, even when the job is boring. This means that you can't slack off and play with your phone when you can't see a threat. Save your betting online for when you're at home and keep a close eye in case a situation does arise. Similarly, you also need to maintain peak physical fitness, even if you don't need to use it on the job very often. Your job is to be ready in every sense if a threat appears. If you demonstrate your dedication to your job and gain excellent experience you may find your career advancing and your salary rising in the process, so don't be afraid to look at jobs with smaller companies when you start out. You never know where a job may lead you.