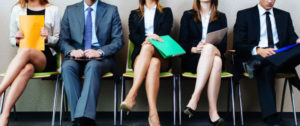 One of the most annoying and time-consuming aspects of running a business is finding new individuals to work for you. If you're expanding your business or just need to fill a vacancy, you need to find great candidates for many different positions. One way to do that is to hire from within; the other way is to hire from outside of your own organisation. The people who work for you are an asset—the most important one you can find. That's why your hiring department is known as the human resources department; human beings are a resource that makes your business functional. Unlike inanimate objects, you cannot predict with a certainty how a human being will perform. That's why the hiring process is so extensive; you need to be able to determine if they will be a good fit for your business and will be able to perform effectively. However, the hiring process can be very disruptive if you have other things you want to accomplish. If you don't have a dedicated human resources department, you have to take time and energy away from doing the job you actually want to do. This can be expensive as well as time-consuming. On top of that, you might not be able to find the very best candidates.
Finding the Best Candidates
Finding the best candidates for a job is simple if you hire a professional to do it. As with just about every aspect of the business world, there are professionals who do this work for a living. They are trained to find great candidates and assess their capabilities. The capabilities of those employees is an important thing to understand. If you can pick great candidates the first time, you won't have to worry about firing and rehiring in the near future. The best recruiters utilise job advertising as well as many other recruitment tools. In addition to that, they also have connections with potential employees.
The connections they have consist of databases of qualified individuals, personal relationships with hiring managers elsewhere, and many other links to potential employees. Taking advantage of job advertisements and recruitment efforts often only appeals to those who are looking for a new job. However, if you utilise a professional firm, they can help you reach out to people who might not even know that they're a perfect match for an opening at your business. A professional firm will also help you hire from within.
Hiring from Within
Hiring from within is the process of promoting someone who already works for you or expanding that person's job description to encompass new responsibilities. Hiring from within can sometimes be difficult because it is difficult to accurately gauge the qualities of someone you know personally. That's why it's so important to employ professionals who can help you determine how well someone might work if you increase their responsibilities. There are many people within your business who are probably well-qualified for the jobs you need done.
In addition to helping you find new employees or hire from within, a professional recruiting firm will save you time and money.